Custom Pole Saw Manufacturer in China
Litagarden is a leading pole saws manufacturer in China. We offer the best types and models of pole saws perfect for any applications. Whether you need gas-powered, battery-powered or electric-powered pole saws, you can find it here at an economical price.
Durable machine
Long-lasting product
Excellent and innovative designs
Customizable according to your needs
LITAGARDEN Pole Saw
Litagarden pole saw is a tree pruning tool used to cut and trim tall trees without the use of ladders. It is a trustworthy tool that can simplify the maintenance of a garden's green area. This tool is designed battery-powered, gas-powered, or electric-powered.
You can trust Litagarden for efficient, high-standard, and heavy-duty pole saws. We rigorously manufacture this tool from the highest quality materials.  Whether you require a high-volume pole saw production run, Litagarden can support your needs. Our flexible production equipment and capabilities can accommodate your demands.
Chain Saw Benefits
Custom Options
You can get custom design pole saws according to your requirements. Request a custom color, size, features, and designs. Our team can etch the logo of your brand on the product.

Extremely Durable
For heavy-duty applications, you can use powerful gas-powered pole saws from Litagarden. It has a versatile design that can reach high 10-12 feet.

EASY TO USE
Get strong, reliable, and easy-to-use pole saws for chopping up a large branch in a garden or yard. Manual pole saws are simple yet efficient, with no need for an engine or a battery.

Lightweight
Pole saws are made from lightweight materials. It offers excellent mobility, especially gas-powered and cordless pole saws. It runs in a long time fit for professional.
Special Design
Litagarden pole saws resemble specialty saws. Their performance indicators are comparable to those of chainsaws, shears, trimmers, and mowing machines. The primary distinctions are in the cutting mechanism and the removable telescopic pole, which can be extended to 120 inches.
The cutting mechanics resemble a chain saw, either electric or gasoline. A fixed tire and a moving chain are commonly used. The efficiency of such a device is directly proportional to the parameters of the cutting details such as chains, tires, and the engine's power.
Pole Saws Applications
Due to their innovative design and function, pole saws have many uses.  Some are the following:
Cutting branches – pole saws are utilized in cutting branches from a tree, a bush, or a shrub. It can cut branches while the operator is standing flat-footed on the ground.
Tree trimming – If you want to remove unwanted limbs caused by strong winds and rain use pole saws.
Tree pruning – to prepare the tree for healthy growth, using pole saws in tree pruning is the best way. This process is complicated and difficult, but pole saws made it easier.
Brush clearing – pole saws are useful for cutting large brush and growths in walkways and buildings. Pole saws cut the bushes from a distance.
Types of Pole Saws
Litagarden provides all types of pole saws for your needs. It has a fashionable design, with durable construction. You can benefit from its good quality carbon brush and bearing. Below are the following:
Electric pole saw – electric motor-powered tools which are cost-effective and offer easy maintenance. Designed with an automatic system and easy operation. The efficiency level of this equipment is determined by the voltage.
Gas-Powered Pole Saw – gasoline-based pole saws are used for heavy-duty applications. It provides excellent mobility and can be refueled with a gasoline mixture.
Cordless pole saws – battery-powered pole saws are convenient to use, and offer superior mobility and performance.
Why Choose LITAGARDEN Pole Saw
For your custom pole saws need in China, Litagarden is your ultimate choice. We are a professional manufacturer based in China. Established in 2004, we constantly deliver the finest quality garden tools for a cost-effective rate to clients worldwide.
Creating pole saw solutions requires sophisticated testing and analytical procedure. Thus, Litagarden adopts excellent processing technology and a CNC processing center in accordance with the ISO9001 international certification level. Our state-of-the-art testing facilities conduct several inspections to ensure pole saws' performance and durability. All products are certified to CE, CCC, CSA, etc. These are designed suitable for light and heavy-duty applications.
Today, we cooperate with various clients in Japan, Korea, America, Germany, Holland, and UK countries. We support OEM requests and fabricate custom pole saws based on your specifications. Message us today!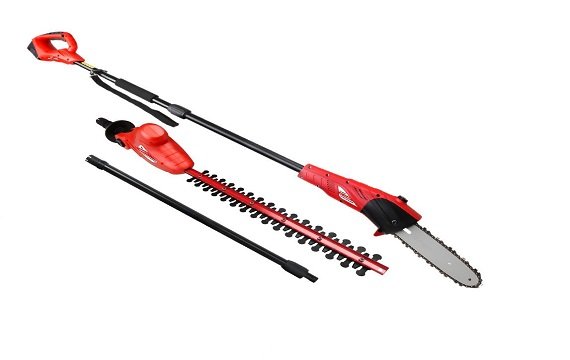 When it comes to pruning applications, a pole saw is an excellent tool that can be used. It can be designed with manual operation, battery-powered, gas-powered, or run-on electricity. Litagarden is a trusted manufacturer you can rely on if you're looking for a powerful cutting tool.
Versatile construction
Lightweight yet sturdy design
Easy to use and maintain
Reliable for handling prolonged projects
Low noise operation
Portable, excellent mobility
Custom design and function
Whatever your requirements are, Litagarden can meet them with an extensive range of high-quality materials. We constantly develop solutions for high-performance applications. A range of superior quality pole saws benefits from our years of research and development in the garden tools industry. You can request complete customization for your desired products such as:
Manual Pole Saw
Electric Pole Saw
Hydraulic Pole Saw
Corded Pole Saw
Powered Pole Saw
Cordless Pole Saw, etc.
Custom Pole Saw that Meet Your Needs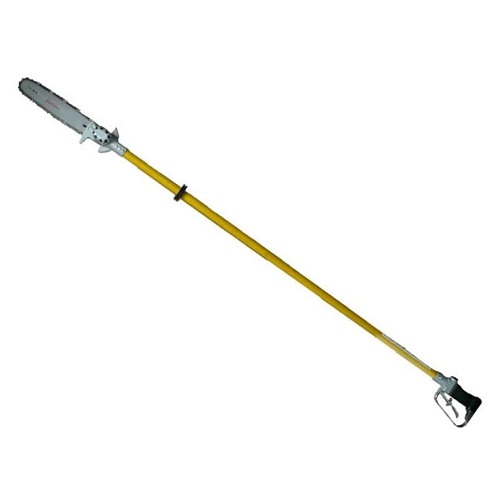 Custom hydraulic pole saw can be used on big farms, roadside trees, in the forest, etc. A heavy-duty machine with high-quality parts and components. It delivers fast and class cutting. Litagarden custom hydraulic pole saw according to your needs. Just let our team know your requirements.
Corded pole saw consists of cords to be powered for great functioning. It is tied to the power source with a cord and used for cutting or pruning branches. We can provide long extension cords for far distances applications.
Reliable and strong custom manual pole saw have a saw blade with big teeth. It doesn't need fuel or electricity. These are manual-operated and easy to use. Litagarden is an expert in delivering the right manual pole saw based on your stipulations.
Custom battery-powered pole saw from Litagarden have unmatched quality and performance. It is lightweight and can be carried anywhere. Charging the battery of this tool can be more or less 1 hour. Designed to make work easy and maintain the environment clean.
"Litagarden provides outstanding quality pole saws. They provide my custom requirements and help me build a top-selling pole saw brand. It is made from top-grade materials with reliable testing."

"Litagarden is a highly recommended company if you are looking for the best manufacturer of pole saw. Their products have an innovative design, functional, high-performance and portable."

" Pole saws from litagarden are unmatched. It is heavy-duty, meticulously made at a very affordable rate. My customers are delighted with these tools. Thank you Litagarden for your dependable support."