Slide

Custom Garden Machinery Manufacturing
A One-stop Solution for Your Custom Manufacturing Needs in China.
Your Professional Garden Machine Manufacturer
LITAGARDEN has fully automated manufacturing technology and a facility for garden tool production. We also have advanced testing equipment to ensure the quality of each garden machine. LITAGARDEN has a dedicated and expert R&D team to produce a wide range of garden tools according to your sample, drawing, or specification. We also offer ODM or OEM services to meet your needs.
China's Garden Tools Expert
As a professional manufacturer in China, we are committed to manufacturing industry-leading and innovative garden tools. LITAGARDEN specializes in the production of small gasoline engine garden machines.
We are also experts in manufacturing landscape garden machines and plant protection machines. All our garden equipment is certified by CE, CCC, ISO9001, and other international standards.
Manufacturing Capability & Cost-Effective Garden Machines
LITAGARDEN is fully equipped with advanced garden tools assembly line. Among our automated production lines are lawn machine special lines, engine-powered production lines, and more. LITAGARDEN has in-house production facilities and its own manufacturing plant. We offer factory-direct prices without sacrificing the quality and stability of each garden tool and machine.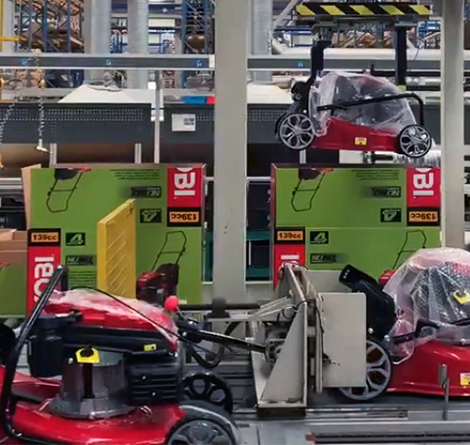 LITAGARDEN Factory and Production
Our factory covers more than 25,000 square meters with over 500 staff, technical teams, and factory workers. LITAGARDEN offers up to 600,000 sets of garden tools' annual production capacity.
These sets of garden equipment include:
We produce different kinds of garden machines through CNC processing centers, die-casting machines, and more.
LITAGARDEN Machines and Equipment for Different Projects

LITAGARDEN offers an extensive range of garden equipment for your different applications and project.
LITAGARDEN is a manufacturing company that specializes in the production of high-quality garden equipment. All our garden machines are certified by ISO9001:2008. Rest assured we manufacture each product while meeting strict manufacturing standards, environmental standards, and quality management.
LITAGARDEN manufactures garden equipment for agricultural, tree surgery, landscaping, and more applications. All our high-performance garden machines are offered at affordable prices. Thus, supporting your business. We have a knowledgeable technical team and friendly staff that will cater to your needs.
Talk to an Expert
Talk to Us
LITAGARDEN is committed to providing one-stop solutions for your requirement. We offer more gardening equipment and machines such as gasoline water pumps, mist blowers, walk-behind mowers, cordless lawn mowers, garden shears, and more.
If you want a customized solution for your gardening tool needs, LITAGARDEN is your no.1 manufacturer. We can provide an extensive range of garden machines with customized designs, colors, sizes, and models.
One-Stop Gardening Tools Solution
LITAGARDEN is committed to providing a one-stop gardening tools solution for the maintenance and management of gardens. We provide garden tools that are widely used for maintaining a good tree shape.
These are also used for:
preventing diseases and pests
light and ventilation transmission
vigorous plant growth, and more.
LITAGARDEN can customize garden machines for your specific applications. Send us your inquiries today!
Garden Tools Quality Certifications
At LITAGARDEN, we assure to provide different models of garden tools with a variety of sizes, designs, colors, and specifications. Each garden tool is certified by international quality and industry standards such as:
Aside from that, LITAGARDEN also ensures that all our garden equipment has safety certifications from CSA CUS, EMC, CE/GS, and more. LITAGARDEN strictly complied with all quality guarantee standards for better production ability. We also have testing instruments to ensure the quality of the products.